| | |
| --- | --- |
| METI/ECCJ/AOTS Training Program | Indonesia |
2.Outline of Energy Conservation Law
---
Structure of the Energy Conservation Law ---2
(Law concerning the rational use of energy)
(1979 enforced, 1999, 2002 amended and reinforced)
<basic objective>
Enhancing rational use of energy and energy efficiency in order to achieve 3E's harmonization.
Regulations regarding factories and business premises
Regulations regarding buildings (newly built, extended)
Energy efficiency standard for appliances and automobiles (Top runner program)
Others (supportive measures/finance, tax, R&D, publicity, etc.)
<ECCJ's Status> ECCJ should be the core organization responsible for promotion of energy conservation. (supplemented resolution for the Law at the Diet )
---
Regulation and Target for Industrial Sector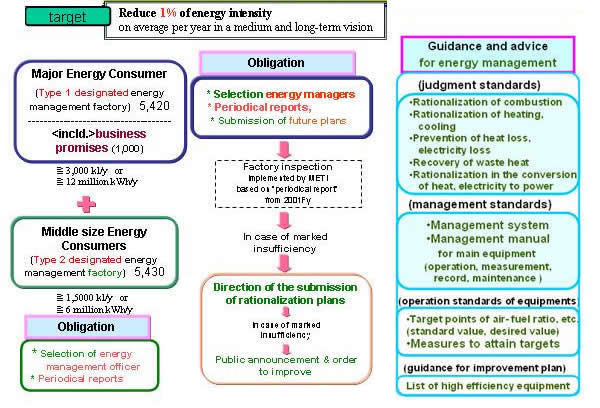 ---
Regulations regarding buildings
(newly built, extended)
Obligations to building owner
Prevention of heat loss through external walls and
windows.
Efficient utilization of energy for air conditioners,
ventilation systems, lighting, water heaters, elevators.
Owners of specified buildings should report on energy saving
measures before the construction.
(specified buildings : other than housings, with floor space of 2,000m2 or more)
This article was added and enforced in April 2003.
Guidance and standards for the building owners on building design and construction.
---
Copyright(C) ECCJ 1996-2019