| | |
| --- | --- |
| METI/ECCJ/AOTS Training Program | Indonesia |
Audit on Energy Conservation of Factory
Sep. 23 2005
Jiro KonishiEnetech
Yokohama

Content
Audit on Energy Conservation of Factory
Energy Conservation of Combustion (air ratio and air preheating)
Energy conservation case
Energy conservation check item(factory, building)
ESCO
---
Audit on Energy Conservation of Factory
(medium-sized factory)
Contents:
2 Framework of the system
3 Scheme and procedure
4 Check item of factory audit - 1
5 Check item of factory audit - 2
6 Check item of factory audit - 3
7 Check item of factory audit - 4
8 Industry type of the audited factory
9 Audit report
10 Proposal by the audit report - 1
11 Proposal by the audit report - 2
12 Proposed energy conservation rate
13 Energy conservation rate by industrial type
14 Number of audits
---
Framework of the system
Outline of the system
Objects: factories of the scales falling under type 2 designated energy management factory
- Fuel = 1,500 to 3,000kL/y, electric power = 6 to 12 million kWh/y
Audit to be done in response to application by the auditee factory
Submission of the preliminary survey sheet on energy audit from the applicant
One-day onsite survey by two specialists, one in thermal energy and the other in electric power
Analysis of data and sending of the report
Energy audit done free of charge (administrationfs budget)
Nationwide endeavor (at ECCJ's 9 branches)
Items to be entered are standardized and statistical analysis is facilitated.
The auditee factory has no obligation to implement the proposals.
Questionnaire surveys one year after audit indicate that about 30 percent of the proposals are implemented.
Specialists are selected from those who have been registered in ECCJ.
The institution and procedure of energy conservation audit are the same as those of the factory energy conservation audit.
---
Scheme and procedure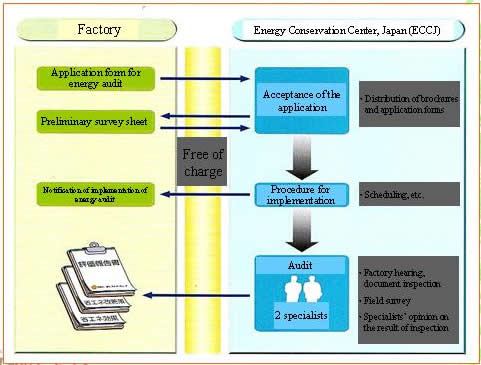 ---
Check item of factory audit - 1
1.General administrative matter
Energy management system
State of implementation of measurement / recording
State of facility and equipment maintenance
Management of energy consumption
Energy unit consumption management for major products
Environmental conservation related management
Improvement of processes
2.Air conditioning / refrigerating facility
Operation management
Energy conservation measure
Operation management of cooling facilities
Operation management of auxiliary facilities
Insulation / refrigerating facilities
---
Copyright(C) ECCJ 1996-2019