METI / ECCJ / ACE Training Program MTPEC06 (2007.01)
MTPEC06
<Energy Conservation Promotion & Energy Audit of Factories in Japan>
February 2, 2007

Hideyuki TANAKA
Technical Expert
International Engineering Department, ECCJ
---
MTPEC06
Program lecturer: Self introduction
Name: Hideyuki TANAKA [Age: 66 years old, born in January 3rd 1941]
Technical Expert, International Engineering Dept.,
International Energy and Environment Cooperation Center, ECCJ

Background:
Qualification:


Job history:
Mar. 1966 - Acquired the Master Degree of Mechanical Engineering at
Kyusyu University

Apr. 1966 - Entered Kawasaki Steel Co., Mizushima Steel Works
(The iron/steel making company)
Field: (1) Basic and detail engineering for coke oven plant/equipment
and steel-making plant/equipment
(2) Construction management of steel-making equipment in
steel-making plant
Aug. 1987- Transferred to Engineering Division in Head Quarters
Field: Basic and detail engineering, procurement of equipment,
construction supervisor, operation guidance and
commissioning of steel-making equipment in Japan and
foreign countries.
May 2002 - Joined ECCJ as a technical expert (Part-time employee)
In ECCJ, I am working mainly to transfer the energy conservation expertise in Industry to
ASEAN countries under the program of METI, JICA, JETRO and AOTS, etc.
---
[I] Energy Conservation in the Japanese Industrial Sector
Contents:
Status of Energy Consumption and Energy Efficiency & Conservation (EE&C) in Japan
Energy Management promotion in Enterprises
---
1. Status of Energy Consumption and EE&C in Japan

(1) Transition of Final Energy Consumption & GDP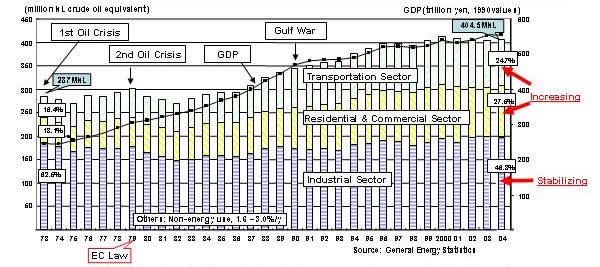 Japan's final energy consumption has consistently increased since the mid 1980s.
Energy manager system has contributed greatly to carry out the energy conservation in industrial sector.
Recently, the government policy is focused in 3 Sectors, not only Industry Sector.
---
Copyright(C) ECCJ 1996-2019