Nation-wide Factory Investigation
… Based on the Article 87 of the law, a survey is conducted on the actual status of the energy management (through collection of preliminary survey sheets and on-site survey). As a result of the survey, if the energy conservation efforts are found to be inadequate, the government will take appropriate measures.

Object factories …
the Type 1 Designated Energy Management Factories (factories and buildings)


<(Note) Not implemented to the Type 2 Designated Energy Management Factories yet>

* Implementation …
Starting from 2001FY.
* Subjects for survey…

Change of energy usage and energy intensity (energy unit consumption) in 5 years.
Submission status of periodical reports and medium-to-long-term plan, and adequacy of the contents.
Observation status of the Standards for Judgment (establishment and implementation of the management standard by main equipment).


<The management standards should be established so that approximately 80% of total energy use is covered>

Status of energy conservation activities (target setting, actual conditions of implementing organization and activities)
* Judgment of whether acceptable or not acceptable
… Survey results are pointed and the activities are judged with the total point (in 100 points scale).


(However, even if the management state is acceptable, the guidance may be given in writing in the case where the improvement of the energy intensity is not sufficient.)
---
Flow Chart on "Nation-wide Factory Investigation"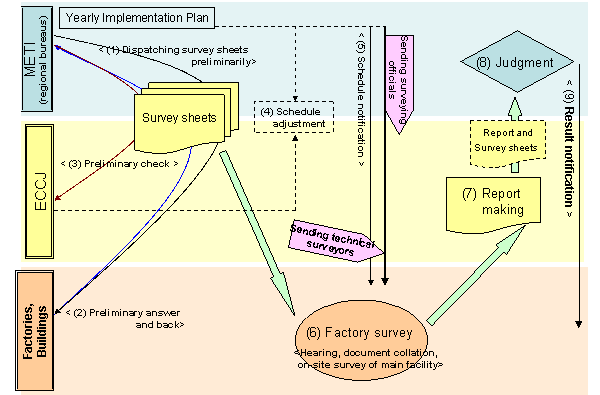 ---
Result of the factory investigation implemented by METI
Fiscal Year
Type of Industry
Number of factories surveyed
Result and measures taken
(< 50 points) Inside inspectionof factory
(50 ~ < 80) Instruction in writing
(80 ≦) Good (adequate)
2001
Iron and steel
Paper and pulp
Paper processing Nonferrous metal
255
210
185
10
(1.5%)
88
(13.5%)
552
(85%)
2002
Textile
Publication, printing Chemical
Gas supply
136
55
568
26
6
(0.8%)
59
(7.5%)
720
(91.7%)
2003
Oil, coal products Ceramic and cement Heat supply
48
305
75
2
(0.5%)
28
(6.5%)
398
(93%)
2004
Plastic
General machinery Electric equipment Information and communication equipment
Electronic parts, devices
186
136
122
44
314
6
(0.7%)
59
(7.4%)
737
(91.9%)
2005
13 Industries
(including building)
Manufacturer head office building (9) , Communication (68) , Broadcast (10) , Airline carrier (4) , Retail service (159) , Post offices, governmental financial institutes (2) , Insurance (16) , Real estate lease and management (120), Hotels (56), Schools (62) , Governmental offices (30) , Municipal offices (13)
546 offices
0
(0%)
21
(3.8%)
525
(96.2%)
---
Result of the factory investigation implemented by METI and the schedule hereafter
5 years Summery <2001~2005>

Number of factoriessurveyed

Result and measures taken

(< 50 points) Inside inspection
of factory

(50 ~ < 80) Instruction in writing

(80≦)
Good(adequate)

3,211

0.75%

7.9%

91.3%
Fiscal year
Number of factories and buildings
Type of industry
Result and measures taken
< 60 points *1 Same above
60 ~ < 80 Same above
80 ≦ Same above
2006
450 approximately
15 industries (mainly commercial buildings where energy consumption is drastically increasing) Agriculture, City water supply, Information service research, Video and audio production, Warehouse, Transportation related service, Wholesale service, Banks financial institutes, Hospitals, Education research, Laundry public baths, Entertainment, Industrial waste disposal service, Religion, Others
(*1) from 2006 Fy
---
Copyright(C) ECCJ 1996-2019