METI / ECCJ / ACE Training Program MTPEC06 (2007.01)
The PROMEEC Project of
ASEAN and Japan
under the SOME-METI Work Program*

ASEAN CENTRE FOR ENERGY
A paper presented during the 6th Multi Country Training Program on Energy Conservation,
31 January 2007, Tokyo, Japan
---
ABOUT ACE
Established on January 1, 1999 as an inter-governmental organisation that is guided by a Governing Council composed of the Senior Officials on Energy of the ASEAN countries.
Core funding is provided by an Energy Endowment Fund established from equal contributions of the ten Member Countries and managed by a private fund manager.
Took over all the commitments, responsibilities, liabilities, and assets of the 10-year long ASEAN-EC Energy Management Training and Research Centre (AEEMTRC).
---
ACE in the ASEAN Energy Sector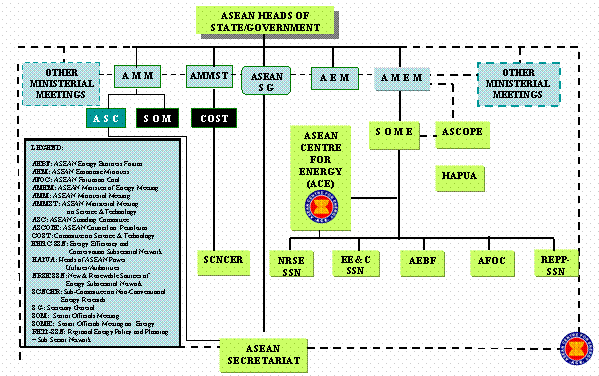 ---
ASEAN PLAN OF ACTION FOR ENERGY COOPERATION 2004-2009: POLICY AND APPROACHES
Strengthen coordination/participation in all programme areas to narrow development gap among ASEAN member countries;
Encourage a conducive environment for greater private sector involvement and participation, including securing foreign direct investment;
Enhance human resources and capacity building skills;
Develop and expand the energy mix and supply source through utilisation of full energy potential of the region to include frontier exploration and development and extensive research on oil, natural gas, coal, hydropower, geothermal, EE & C and NRSE;
Develop transparent legal, regulatory and technical frameworks in various energy projects, in particular on the cross border interconnection projects e.g. APG and TAGP.
---
Copyright(C) ECCJ 1996-2019