I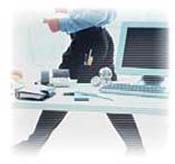 n energy management for a building, it is important to understand "where", "when", "how much", and "what for" for the consumption of the energy. In other words, understanding of actual conditions is the first step in energy conservation. Therefore, data obtained through investigation was analyzed based on an "energy consumption structure" concept.
Energy Consumption Structure for a Building
A building energy consumption structure is the overall analysis results such as the graph below based on the separating the amount of energy consumed by devices shown in the classification table below into items and details.