Dispatch of experts to Vietnam
As part of the future capacity building program, the ECCJ dispatched the experts to discuss with a local department in charge toward materialization of the support activities.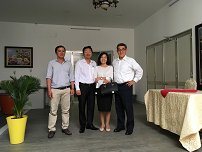 At the Ministry of Industry and Trade in Hanoi on October 11 (Wed.), we discussed a future policy for supporting the energy conservation activity in Vietnam. The activities are launching the Hanoi Training Center and providing support for fostering the instructors, and supporting development of the EC guideline.
On the same day, we visited the Hanoi Energy Conservation Center (ECC Hanoi) in charge of the Hanoi Training Center to confirm the progress of launching and the information on the training facilities to be introduced. Because the training facilities differ partly from the already operating Ho Chi Minh Training Center, we were requested to support formulation of a training program in accordance with the training facilities in Hanoi.
On October 12 (Thu.), we visited the Ho Chi Minh CSED(Center of Supporting & Enterprise Development; former PRET)to share the status of the Hanoi Training Center and discussed on the possibility of cooperation for launching the Hanoi Training Center.
Based on this visit, we will study the details of ECCJ's specific future support so that we are ready to propose them at our next visit on January.