ECCJ participated in the Central Asia Regional Economic Cooperation (CAREC) Meeting
Under the instruction and financial support of the Asian Development Bank (ADB), the Energy Conservation Center, Japan (ECCJ) participated in the CAREC Energy Sector Coordinating Committee Meeting (ESCC) that was held in Ashgabat, Turkmenistan on March 14, 2018 attended by government representatives from the CAREC* countries and others. At the meeting, ECCJ gave presentations and explanations together with the ADB relating to roadmaps for energy conservation promotion.
* CAREC (The Central Asia Regional Economic Cooperation): There are 11 member countries, consisting of Afghanistan, Azerbaijan, China, Georgia, Kazakhstan, Kirghiz, Mongolia, Pakistan, Tajikistan, Turkmenistan, and Uzbekistan. The ADB acts as the secretariat.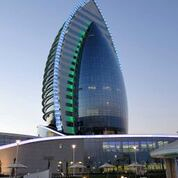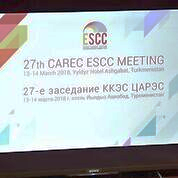 Venue of the ESCC Meeting (Yyldyz Hotel)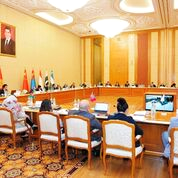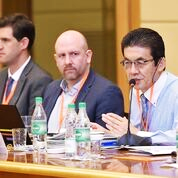 Views of the ESCC Meeting
CAREC is a regional cooperative-type development initiative in Central Asia in which the ADB is undertaking the role of lead manager and several international development banks are participating. This time, ECCJ is supporting a project included in the initiative that intends to build and implement an energy-related advanced technology introduction roadmap under the umbrella of a technological cooperation project known as "Leapfrogging Clean Technologies through Market Transformation". According to a request from the ADB, ECCJ has been continually supporting the creation of one of the four chapters in the above-mentioned roadmap, the chapter relating to energy conservation, as an energy conservation-related partner since January 2018. Based on the ESCC Meeting this time, the ADB has requested ECCJ to keep providing continual support for building energy conservation systems in the CAREC countries through attendance at the ESCC and other meetings, and to cooperate in specific introduction of leading-edge technologies maintained by Japanese companies.